Rentals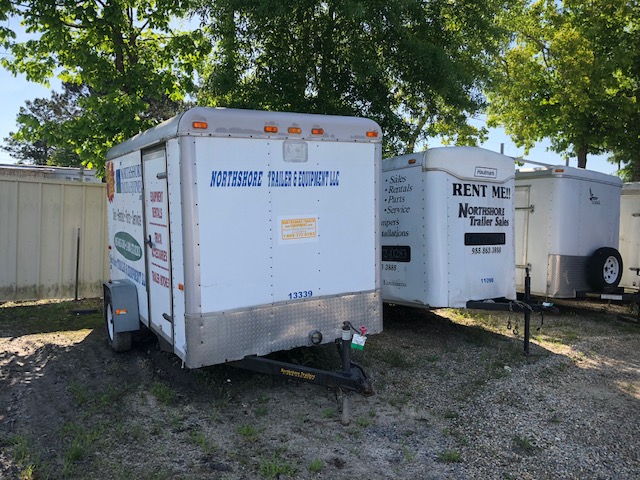 Rental requirements:
Trailers that exceed 7000# GVWR and ALL DUMP TRAILERS will require major credit card for payment and deposit ($200.00).
Trailers 7000# GVWR or less (16' or under - EXCEPT DUMP TRAILERS) will be allowed to use a debit card for payment and/or deposit.
All equipment, trailers over 16' in length or 7000# GVWR, and all dump trailers, will require a major credit card for payment and deposit.
Valid insurance on the towing vehicle must be presented.
Must have valid drivers license.
No cash accepted as payment, and no exceptions to these requirements.
Please call before renting and assure availability of the trailer and or equipment that you are interested in.
Delivery charge is $40.00, plus an additional $1.50 per mile for each mile over a total of 30. ***Delivery only available on equipment rentals. Rented trailers must be picked up at rental location.***
Trailers rented on Saturday must be returned by 9am on the following Monday, and will be charged at 1-1/2 day rental, unless part of a weekly rental.
Daily and weekly rental on equipment is calculated at 8 hours on the meter for 1 day and 40 hours on the meter for weekly. Any overages will be charged in 1/2 day increments.
Anything over 7000# GVWR must be towed with a 3/4 ton truck or bigger.
| | | | | | | | |
| --- | --- | --- | --- | --- | --- | --- | --- |
| Pearl River | | | | | | | |
| Enclosed: | Daily Price | Weekly Price | Ball Size | Plug | Payload | Brakes | Features |
| 5x10 | $35.00 | $175.00 | 2" | 4-way | 1980# | None | Dbl. doors, wheel chock |
| 6x12 | $45.00 | $225.00 | 2" | 4-way | 1700# | None | Dbl. doors |
| 6x12 | $45.00 | $225.00 | 2" | 4-way | 1500# | None | Dbl. doors, wheel chock |
| 6x12 | $45.00 | $225.00 | 2" | 4-way | 1700# | None | Dbl. doors |
| | | | | | | | |
| | | | | | | | |
| --- | --- | --- | --- | --- | --- | --- | --- |
| Pearl River | | | | | | | |
| Utility: | Daily Price | Weekly Price | Ball Size | Plug | Payload | Brakes | Features |
| 5x10 | $35.00 | $175.00 | 2" | 4-way | 2100# | None | Ramp gate, 2' sides |
| 5x10 | $35.00 | $175.00 | 2" | 4-way | 2100# | None | Ramp gate, 2' sides |
| 6.5x12 | $40.00 | $200.00 | 2' | 4-way | 1900# | None | Ramp gate |
| 6x14 TA | $55.00 | $275.00 | 2" | 7-way | 4900# | Electric | Stand up ramps |
| 6.5x14 | $55.00 | $275.00 | 2" | 7-way | 2600# | Electric | None |
| 6.10x16 TA | $55.00 | $275.00 | 2" | 4-way | 5000# | Surge | Ramps |
| 6.10x16 TA | $70.00 | $350.00 | 2-5/16" | 7-way | 7000# | Surge | Stand up ramps |
| 6.10x18 TA | $70.00 | $350.00 | 2-5/16" | 7-way | 5000# | Surge | Ramps |
| 77" Tow Dolly | $48.00 | $240.00 | 2" | 4-way | 3000# | Surge | Straps |
| | | | | | | |
| --- | --- | --- | --- | --- | --- | --- |
| Pearl River | | | | | | |
| Dump Trailers: | Daily Price | Weekly Price | Ball Size | Plug | Payload | Brakes |
| 5x10 | $58.00 | $290.00 | 2" | 7-way | 4600# | Surge |
| 6.5x10 | $68.00 | $340.00 | 2-5/16" | 7-way | 6000# | Surge |
| 6.5x10 | $68.00 | $340.00 | 2-5/16" | 7-way | 6000# | Surge |
| 6.5x10 | $68.00 | $340.00 | 2-5/16" | 7-way | 6000# | Electric |
| 6.5x10 | $68.00 | $340.00 | 2-5/16" | 7-way | 6000# | Electric |
| 7x14 | $110.00 | $550.00 | Goose Neck | 7-way | 9000# | Electric |
| | | | | | | | |
| --- | --- | --- | --- | --- | --- | --- | --- |
| Pearl River | | | | | | | |
| Light Equipment | 3 Hours | 24 Hours | Ball Size | Plug | Payload | Brakes | Features |
| 2'x4" Ditch Witch | $60.00 | $135.00 | 2" | 4-way | 2200# | None | Includes trailer for transport |
| 3'x4" Ditch Witch | $60.00 | $135.00 | 2" | 4-way | 2200# | None | Includes trailer for transport |
| Cement Mixer | $25.00 | $40.00 | NA | NA | NA | NA | NA |
| | | |
| --- | --- | --- |
| Pearl River Heavy Equipment | Daily Rate (8 hours) | Weekly Rate (40 hours) |
| Takeuchi TL30 track loader | $225.00 | $900.00 |
| Bobcat 185 (wheels) | $175.00 | $700.00 |
| Kubota min-excavator | $175.00 | $700.00 |
| | | | | | | | |
| --- | --- | --- | --- | --- | --- | --- | --- |
| Covington | | | | | | | |
| Enclosed: | Daily Price | Weekly Price | Ball Size | Plug | Payload | Brakes | Features |
| 6x12 | $45.00 | $225.00 | 2" | 4-way | 1700# | None | Single rear door |
| 6x12 | $45.00 | $225.00 | 2" | 4-way | 1700# | None | Single rear door |
| | | | | | | | |
| --- | --- | --- | --- | --- | --- | --- | --- |
| Covington | | | | | | | |
| Utility: | Daily Price | Weekly Prive | Ball Size | Plug | Payload | Brakes | Features |
| 6.5x12 | $45.00 | $225.00 | 2" | 4-way | 2000# | None | Ramp gate |
| 6.10x16 | $55.00 | $275.00 | 2" | 4-way | 5000# | Surge | Ramps |
| 6.10x18 | $68.00 | $340.00 | 2-5/16" | 7-way | 5000# | Electric | Ramps, 2' solid sides |
| 6.10x20 | $75.00 | $$375.00 | 2-5/16" | 4-way | 9300# | Hydraulic | Ramps |
| 6.10x18 Car Hauler | $60.00 | $300.00 | 2" | 4-way | 7000# | Hydraulic | Ramps, dovetail |
| 77" Tow Dolly | $48.00 | $240.00 | 2" | 4-way | 2900# | Surge | Straps |
| 5x8 | $30.00 | $150 | 2" | 4-way | 2000# | None | Ramp gate |
| | | | | | | | |
| --- | --- | --- | --- | --- | --- | --- | --- |
| Covington | | | | | | | |
| Dump Trailers: | Daily Price | Weekly Price | Ball Size | Plug | Payload | Brakes | |
| 5x10 | $58.00 | $290.00 | 2" | 7-way | 4750# | Surge | |
| 6x10 | $68.00 | $340.00 | 2-5/16" | 7-way | 6950# | Surge | |
| 6x10 | $68.00 | $340.00 | 2-5/16" | 7-way | 6950# | Surge | |
| 6x10 | $68.00 | $340.00 | 2-5/16" | 7-way | 6950# | Electric | |
| | | |
| --- | --- | --- |
| Covington | | |
| Light Equipment | 3 Hours | 24 Hours |
| Log Splitter | $42.00 | $70.00 |